With all the craziness YOU are going through getting ready for the holidays (um, I'm letting other people deal with the craziness for me this year), the New Year will be upon you without you even realizing it. A new year is coming VERY SOON! Have you started making your resolutions? NO? Will they be the same as last year? Mine will probably be. BUT, in the last year I have been BLESSED by an on-line community that has helped me to learn HOW to reach my goals (or at least ascertain whether they SHOULD be goals).
It always surprises me that people stay up way past midnight on New Years Eve and "resolve" to be better to their bodies, their families and renew their relationship to God in the New Year (starting on no sleep is NOT a good way to start that)!
So, I'm thinking about it now. Actually, I try to start new EVERYDAY, because EVERY DAY I fail miserably. As a mother, as a friend, as a partner, Christian, wife, daughter, sister, sister-in-law…
Earlier this year (March I believe) I came across, somehow, this website on "Maximizing Your Morning" which really blew me away. I had been thinking for months by that time that I needed to be getting up earlier so I could have more peace in my day. My sweet husband kept trying to convince me to get up earlier (ah, but the silence after bedtime I'm SO able to get SO much done – even with the TV on). And Kat Inspired me to Action. I read the ebook, I signed up. I failed. Almost every day. I think I exercised ONLY the first day of the plan. But I started to connect with other moms and even not-yet-moms who were struggling to be graceful in their lives, as I struggled.
The really interesting thing I found out…
We all have a really hard time accepting grace for ourselves. We can't survive without it, we depend on it, but we can't give ourselves a fresh start, a fresh slate, we hang onto guilt – DOING rather than BEING. Thinking we must DO something to be acceptable to God. And we, as dear Lara Williams names us, Sister-Friends are able to encourage each other IN grace – even when we don't see how ungraceful we are being to ourselves.
My Dear Husband knows that guilt is the thing that makes me the most crazy angry. Me, not living up to the expectations I made for myself.
And these DEAR Hello Mornings MYM sister-friends have helped me find, DAILY, that I am LOVED because of who I am, Whose I am. Not because of what I do, or try to do. BEing is so much more lovely to live than DOing.
SO, I don't work out. My plans for the day, with this last challenge were pretty much dashed when I was put on bed rest. Getting UP (out of bed FOR my children instead of TO my children) was no longer a feasibility for me. And, honestly, it won't be for this next challenge either. Getting UP has become me waking, with an almost 3 year old snuggled tightly to my right arm, with dear husband attempting to shower before the body-slamming children awaken with my phone in hand (as to not wake baby) reading texts on YouVersion, tweeting and emailing my MYM groups (especially my sweetest friend who wakes up with me at 6:45 every morning (even the mornings I don't wake up) and prays for me with DM tweets – and has for the last 6 months).
I had to be graceful to myself. Right now I'm learning that GOD has the control. He KNOWS the WHOLE picture – and I am learning to TRUST that what HAS to be done, will get done, and what is important is BEcoming, BEing, and BEloved. And I am SO grateful for all the sister-friends I've made through this journey. I KNOW that my being on bed rest would have been a VERY different experience if I had not been part of MYM before hand, being introduced to blogs of INCREDIBLE women, books full of Gratitude, Rejoicing and Grace. And encouragement to Seek Him First, to centre myself on what really matters and allowing the other things to fall into place. I MUST have much more to learn (currently I'm only 24 weeks and I'm really hoping to make it another 3 months).
So, soon, very soon is the New Year. And TODAY you can sign up for the session beginning in January (the 16th). You get a "two week" break after the New Year to break your diet and to start going to bed a bit earlier…to create your goals (quiet time, planning, exercise) and to download the eBook…
My goals, from bed, are to wake up and pray with my prayer partner from the first challenge we did together (in May). We are currently focusing on praying for our spouses as we both have realized that sometimes they get neglected in our prayers. I want to find ways to HELP prepare the children for school with a GENTLE Spirit. And I'm looking forward for Katie Orr & Lara William's new study. In the "interim" time between finishing up Abiding Fruit and starting the new study, I'm going to read their book Savoring Living Water (I have a hard copy, but HERE is the eBook link). And continuing to memorize with the Hide Romans 8 in Your Heart, as when the 39 verses are memorized, and only then will I allow this sweet baby to enter the oxygen breathing world (as if I have any say in the matter).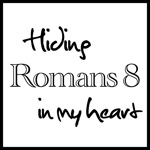 I also JUST TODAY received Grace for the Good Girl by Emily P Freeman. Like Ann Voskamp's One Thousand Gifts, I've heard SO much about it and I can barely contain myself to keep from reading it right now. And, I'm going to RE-READ One Thousand Gifts and, like every other momma blogger out there, start sharing my list with you. Here is something to entice you to join me in soaking in the change that deep gratitude makes in a life:
And, my final "bed rest" goal of this new term is to finally work with my personal webdesigner to update this blog so I can actually PUT BUTTONS on it! =)
Join me, please!? I double dog dare you!
Fellow Uptowners? Cousins? Sisters-in-Law? Facebook friends? Not-already-involved Twitter friends? Sign up. Meet new people who will lift you up and whom you will be able to encourage as well. And – remember, YOU ARE LOVED for who you ARE, not what you DO.
*fyi – these are not affiliate links, they are links to the blogs/books mentioned in this post. I just want YOU to know how much I really LOVE these women and what they have done to encourage me in the last year!