Delight.
A few things that were written in my journal that I didn't add last week (I had apparently started keeping track last week before I misplaced it):
3 Ways I Witnessed Happiness Today:
105. Claire (almost 3 yr old) dragging a chair from her bedroom to look at the snow falling in my window.
106. Dear Husband Facebooking about an inbox full of praise for a photo that he took and is on-line.
107. A little boy who got to have hot cocoa at school because he had a mug AND it was below freezing (how cool is this teacher btw?)!
108. Psalm One being prayed over me today-> "Like a tree planted by streams of water, whatever she does prospers."
Things that I was especially grateful for SINCE my late post last week – still not off the January Joy Dare right now, I'm too overwhelmed with gratitude for other gifts…
109.  That Sunday School Coordinator coordinating with the Service Ministry coordinator and receiving two bags of GF food from Trader Joe's (including brownies she made just before church so they were still warm when Dear Husband brought them home).

110.  People willing (and wanting) to go baby shopping for me.

111.  Target's website registration FINALLY accepting my snailmail address! (momma's going shopping!!!)

112.  A Walmart Christmas Gift card (from my brother's family) that is going to also be buying some baby things this week.

113.  Although the due date isn't until April 1 (PALM SUNDAY vs April Fools), knowing that this baby can come at any time (probably in 5-6 weeks) is getting me REALLY excited!!!

114.  A new niece (as of 4:20 Saturday Morning)!

115.  Pinterest for my nesting desires while stuck in bed.

116.  Claire loving the new gummies SO much, she's using the potty every few minutes. And the gummies are GF and CORN SYRUP FREE!!!

117.  The Sedin Twins.

118.  Children who remember to flush the toilet AND wash their hands!

119.  Child INSISTING on panties instead of training pants or diaper.

120.  That it's time to buy some princessy panties for a little girl's birthday!!!

121.  That when it is spring, I will be able to start walking again.  And the ponds at the end of the street will be full of ducklings and baby geese to enjoy with my new baby strapped to me, the girls in the wagon pulled by the boy and the teen.

122.  Finding grants to help pay for hockey and figure skating.

123.  Consignment stores.

124.  That the "fender bender" was only a fender bender and my men are well, even if the van may need a bit of a paint job.

125.  I am SO grateful for the power of prayer to lay comfort to a worried mind, anxious heart, pained body, weary spirit. For when I am weak, His Power is made perfect – and His hand has definitely pulled me through a physically difficult weekend.

126.  That my in-loves threw a fantastic party for my dear, sweet little girl and Dear Husband recorded it for me because I couldn't be there, so I will have it forever in my heart – her sweet, pant-less self blowing out her candles:
Happy Birthday Claire Bear!
•••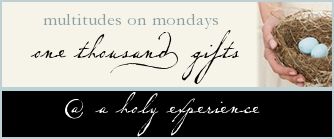 A Holy Experience
Ready for the February Joy Dare?
A whole new list of 3 things to be grateful for each day!
Go to Ann's site and PRINT IT OUT NOW!