Ah. So many things we take for granted when we can be in our own beds at home. Or when we can chase after our kids who are writing on the walls, or climbing over backyard gates in order to get an errant baseball.
So many things.
Here are a few of the things I am SO grateful for (Yes, I have a smile on my face, even after being in the hospital for 5 days). I'm currently at 35 weeks, hoping for two more weeks of baby growing, and then maybe even a vaginal delivery! Move, placenta! Move!
155) iMessage. I just got a video of my kids dancing away with Nanny-Lou at the local McDonald's playground. Stuffing their faces with fries and saying "I love you Momma." 
156) That I'm only about 15 minutes away from Dear Husband while he is at work, and he brought me a THERMOS of coffee from HOME today. Perfectly prepped.
157) That I normally don't have issues with my bowels. I'm grateful that I am in the care of nurses and doctors who are all about making me comfortable, and able to help with the issues I am having in that department (I know that is TMI for most of you, but I am VERY thankful for all that they can and are doing to help – I seriously wonder WHY people become nurses and doctors to help people do those "basic things").
158) That although my sky view is small, I have witnessed snow and sun in abundance this weekend.
159) For my husband bringing a bit of home to me to brighten my room when the sun isn't shining.
160) Knowing that God has his hand on Cora Beth, and me and is showing it every day by gracing us with lovely nurses, dietitians, doctors (residents, fellows…), food service workers with smiles, and that all the aspects of our care are being taken care of (even as I typed this a Reproductive Mental Health Doctor came in to chat to see how I was doing).
161) Dorothy Sayers books
162) Friends who bring scrabble boards, fingernail polish remover and pink stuffed bears. aka Coral
163) Nurses who smile, who sit and listen, who come in to chat (who offer REAL coffee).
164) For remembering that the sonographer showed us that Cora Beth has a head full of hair in the ultrasound! How incredible is it to be able to SEE that?!?
165) An abundance of fruit, able to take baths and read novels at my leisure. Almost like a vacation (except for the pain, the medication, the bed restrictions, and the vitals being taken). Although I get excellent room service.
•••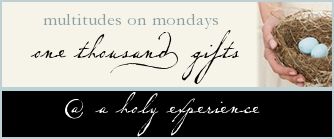 •••